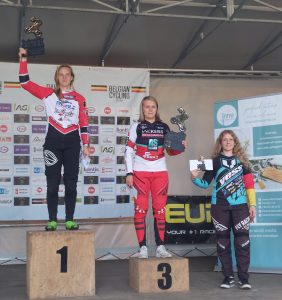 After some weeks dealing with a knee injury Regula was excited to race at a new track in Ravels. The 3 Nations Cup normally consists of one race in Belgium, Netherlands and Germany – due to the pandemic this year it´s only Ravels and the German round in Ahnatal in October.
This time Elite Women and Junior Women raced combined but were separated in results. Regula got 5th in Elite Women.
Nach einigen Wochen Laborieren an einer Knieverletzung freute sich Regula auf ein Rennen auf einer neuen Bahn. Normalerweise besteht der 3-Nations-Cup aus je einem Rennen in Belgien, den Niederlanden und Deutschland. Pandemiebedingt werden 2021 nur Rennen in Ravels und im Oktober in Ahnatal bei Kassel ausgefahren.
In Ravels starteten die Elite und Junior Women gemeinsam, wurden aber getrennt gewertet. Regula belegte den 5.Platz in Elite Women.