Two weeks ago the German Championships in Stuttgart finally got confirmed to take place in Stuttgart, of cause with appropriate covid measures. Regula was really excited to race again and especially on one of her favourite tracks.
Regula rode strong and managed to win all 3 races. German Elite Women Champion 2021 and her 16th German Championship title.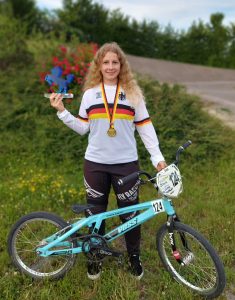 Vor zwei Wochen kam die Bestätigung, dass die Deutsche Meisterschaft 2021 in Stuttgart stattfindet – natürlich mit entsprechenden Covid-Maßnahmen. Regula freute sich endlich wieder ein Rennen zu fahren und dies auf eine ihrer Lieblingsbahnen.
Regula fuhr starke Läufe und konnte alle 3 Rennen gewinnen. Deutsche Meisterin Elite Women 2021 und 16. Deutscher Meistertitel!