Regula´s 3rd race this year was in Schwenheim / France. Normaly there are 2 races for the Fly Racing Open series, but Besancon won´t run their traditional race with a great international field this year.
Regula had some good starts and won all 5 races in Schwenheim, that is near Strasbourg. "It´s different with all the safetly measures, but in general I´m thankful we could race at all," Regula said after the race.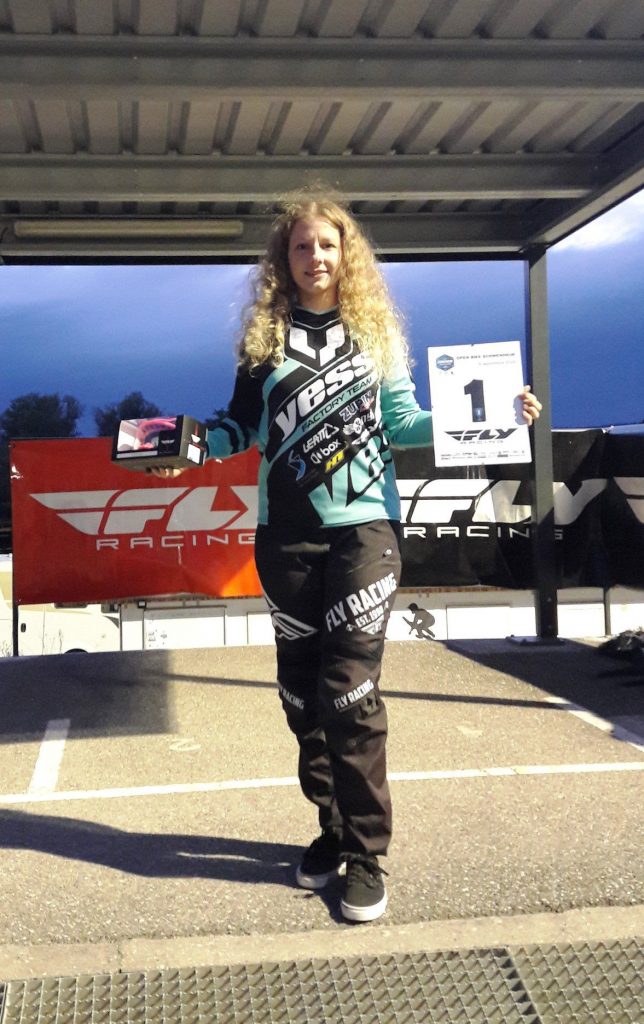 Das in der Nähe von Straßburg gelegene Schwenheim lud zum traditionellen "Open de Schwenheim" ein. Normalerweise gibt es eine "Open Serie" mit je einem Rennen in Besancon und Schwenheim. Besancon wird das international sehr hochrangig besetzte Traditionsrennen 2020 nicht ausrichten.
Regula decided to race in Schwenheim instead of Verona / Italy this weekend. A lot of European Elite riders decided not to go to Verona, where usually around 1500 riders and spectators from all over Europe are expected.
Regula entschied sich bewusst für einen Start in Schwenheim. Zeitgleich fand ein Europacup im norditalienischen Verona statt. Zahlreiche europäische Elitefahrer verzichteten auf einen Start in Verona, wo normalerweise ca. 1500 Fahrern und ebenso vielen Zuschauern teilnehmen.
In Schwenheim konnte Regula alle 5 Rennläufe dominieren und gewann den Tagessieg. "Es ist ist etwas gewöhnungsbedürftig mit dem Hygienekonzept zwischen den Rennen, aber alle sind dankbar, dass wir Rennen fahren können," sagte die Kornwestheimer Elitefahrerin nach dem Rennen.