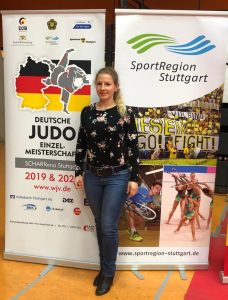 The Stuttgart region is famous for it´s high performance sports – soccer, handball, volleyball, gymnastics, cycling, athletics, tennis and many other sports in the highest national divisions are settled in the area and Stuttgart especially is a common host for national & international Championships. Every year the "Sport Region Stuttgart" invites
the clubs who compete in the German Bundesliga divisons to the networking event called "Bundesliga Brunch". This year the event was in Stuttgart combined with a visit of the the German Judo Championships. Regula met some amazing people, had interesting talks and saw exciting finals at the German Judo Champs. "I really enjoyed this events and participating for the SV Salamander Kornwestheim," Regula said afterwards.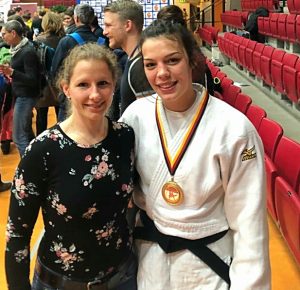 Die Region Stuttgart ist bekannt für den Leistungssport – Fussball, Handball, Volleyball, Radsport, Turnen, Leichtathletik, Tennis und viele weitere Sportarten treten in der Bundesliga an und auch für nationale und internationale Meisterschaften ist Stuttgart ein bekanntes Terrain. Jedes Jahr läd die SportRegionStuttgart die Bundesligisten zum Bundesliga-Brunch, einem Networking-Event in Kombination mit einer Sportveranstaltung, ein.
In diesem Jahr waren die Teilnehmer nach dem Brunch bei den Finals der Deutschen Judo Einzel-Meisterschaft zu Gast. Regula traf tolle Menschen, hatte interessante Gespräche und sah aufregende Finals bei der Judo Meisterschaft. "Es war ein tolles Event und ich freue mich, für den SV Salamander Kornwestheim dabei gewesen zu sein," sagte Regula.