After many years there was an international race (UCI C1) for Junior & Elite in Esselbach again. The track totally changed since the last European Cup & European Championships and the starting hill was relocated to the former 2nd turn.
Long story short: Regula didn´t have the best weekend. 2x 5th place and some UCI points were the result – and improving to 57th place in the UCI World Ranking.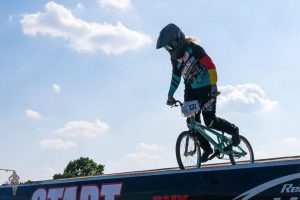 Nach vielen Jahren gab es wieder ein internationales Rennen (UCI C1) für Junior & Elite in Esselbach. Die Bahn wurde komplett umgebaut seit den letzten Europacups und der Europameisterschaft – der Starthügel steht jetzt auf der vormals 2.Kurve.
Wie immer bei internationalen Rennen in Esselbach: Regen. Regula hatte nicht das beste Wochenende und belegte an beiden Tagen den 5.Platz in Elite Women. Diese Resultate brachten UCI-Punkte und die Kornwestheimerin konnte sich auf den 57.Platz der UCI Weltrangliste verbessern.