The highlight of the German season was on the new Supercross track in Stuttgart. Regula really likes the track and all went good until a hard crash the week before the race. The only question ever since was if she would be able to race?
Thanks to physios and the great team behind her the answer is: Yes. Due to UCI rules the race consisted of 3 rounds. In the 1st round Regula won with a big lead. In the 2nd round she had to catch up after losing speed on the first straight – then made a great move in the last turn to take the win. In the 3rd race a tactial solid lap was enough for Regula to win the race and the title.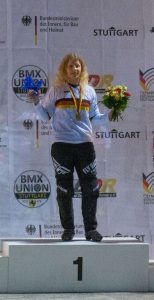 15th German Champion title and 1st title for the club SV Salamander Kornwestheim 🙂
Das Highlight der deutschen BMX-Saison, die Deutsche Meisterschaft, fand auf der Supercross-Strecke in Stuttgart statt. Regula mag die Bahn und alles lief gut bis zu einem schweren Sturz eine Woche vor dem Rennen. Seither war die große Frage, ob Regula starten können wird. Dank Physios und einem guten Team war die Antwort: Ja. Das Rennen wurde nach UCI-Regularien ausgefahren, was 3 Rennläufe bedeutete. Den ersten Lauf konnte Regula mit großem Vorsprung gewinnen. Im zweiten Lauf musste sie nachdem sie auf der ersten Gerade Schwung verloren hatte aufholen – und gewann nach einem super Überholmanöver in der letzten Kurve. Im dritten Lauf reichte Regula eine taktisch solide gefahrene Runde um das Rennen und den Titel zu gewinnen.
15. Deutscher Meistertitel und 1. DM-Titel für den SV Salamander Kornwestheim 🙂