BMX Club Repy hosted the traditional King of Prague races. Riders from Europe, Australia, Brazil and Argentina competed for UCI points – and 1 rider from the Club SV Salamander Kornwestheim 😉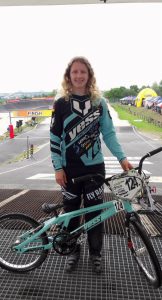 On Saturday Regula and a swiss rider got into each other´s way a few times which cost some speed, so she had to catch up to the field a few times. Regula finished 5th. After Saturday´s heat above 30°C, Sunday started with rain. Because the gate got slippery, the organizer had an unusual but successful solution: Grinding machines were used to get some more grip on the gate and the races could be started. Regula again finished 5th and improved to 65th place in the UCI World ranking.
Im Stadtteil Repy fand das traditionelle King of Prague Rennen statt. Die Kornwestheimer Elitefahrerin Regula Runge und die Schweizerin Donzallaz kamen sich am Samstag immer wieder ins Gehege. Zuerst kollidierten sie nach dem Start, im Folgerennen in der ersten Kurve, was beide viel Zeit und Geschwindigkeit kostete. Dennoch konnte Regula sich noch auf den 5.Platz nach vorne fahren.
Nachdem am Samstag die Temperaturen jenseits der 30 Grad den Fahrern einiges abverlangten, startete der Sonntag mit Regen. Nachdem die Startanlage bei anhaltendem Regen zu rutschig wurde, hatten die Ausrichter eine ungewöhnliche, erfolgreiche Lösung: Damit sich kein Fahrer verletzt, wurden kurzerhand mit Handschleifgeräten die Standflächen aufgeraut und das Rennen konnte gestartet werden. Regula fuhr erneut auf den 5.Platz und konnte sich in der Weltrangliste auf den Platz 65 verbessern.