Ingersheim hosted round 5&6 of the National "Bundesliga" Series. In best weather conditions riders were chasing points for the National Overall ranking on one of the best tracks in Germany. Regula  had a great race weekend: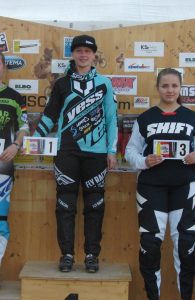 On Saturday she won all her qualification motos in Elite Women. In the final she was in front right after the start and won the most important race of the day with a nice lead.
Sunday: Again Regula was able to win all qualification motos and was in front right after the gate dropped. In the final Regula had a great gate start, was in front of the field and won the final clearly with more than 1 second lead.
In Ingersheim fanden die Läufe 5&6 der BMX-Bundesliga statt. Bei bestem Wetter kämpften die Fahrer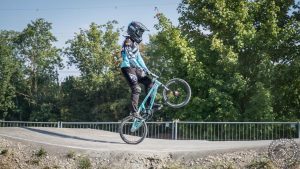 auf einer der besten deutschen Rennstrecken um Punkte für die Gesamtwertung. Regula hatte ein tolles Rennwochenende:
Am Samstag gewann sie alle Qualifikationsläufe souverän. Im Finale war sie gleich in Führung und konnte das wichtigste Rennen des Tages mit einem schönen Vorsprung gewinnen.
Sonntag: Die Qualifikationsläufe gewann Regula wie am Vortag eindeutig mit Start-Ziel-Siegen. Im Finale hatte sie wieder einen guten Start, setzen sich an die Spitze des Feldes und konnte mit mehr als einer Sekunde Vorsprung das Rennen deutlich gewinnen.